Donate Lesson feature empowers educators to build a database of global learning resources
ThingLink has announced a new Donate Lesson feature that enables educators to share distance learning materials with colleagues around the world. Teachers and education professionals from different schools, districts, cities, states and countries can now donate interactive images, videos, and virtual tours to a new, freely available global collection of visual learning materials on ThingLink that supports teaching and learning from home.
An interactive guide to viral hepatitis by MSF
Agenda 2030 - 17 Obiettivi di Sviluppo Sostenibile
How does it work?
Free teacher accounts have full access to uploading and sharing educational resources on ThingLink. If you have used ThingLink to create learning materials that could be helpful for your colleagues in other cities or regions, you can use the Donate Lesson option to share them.
ThingLink Education and eLearning account holders will see Donate Lesson as a new option in the sharing dialog. The educator can categorize each lesson per country, grade, subject and keywords. For quality purposes, all submissions will be reviewed by members of the ThingLink education community. Once approved, the author will get an approval notification and a Global Educator badge for their profile and social media.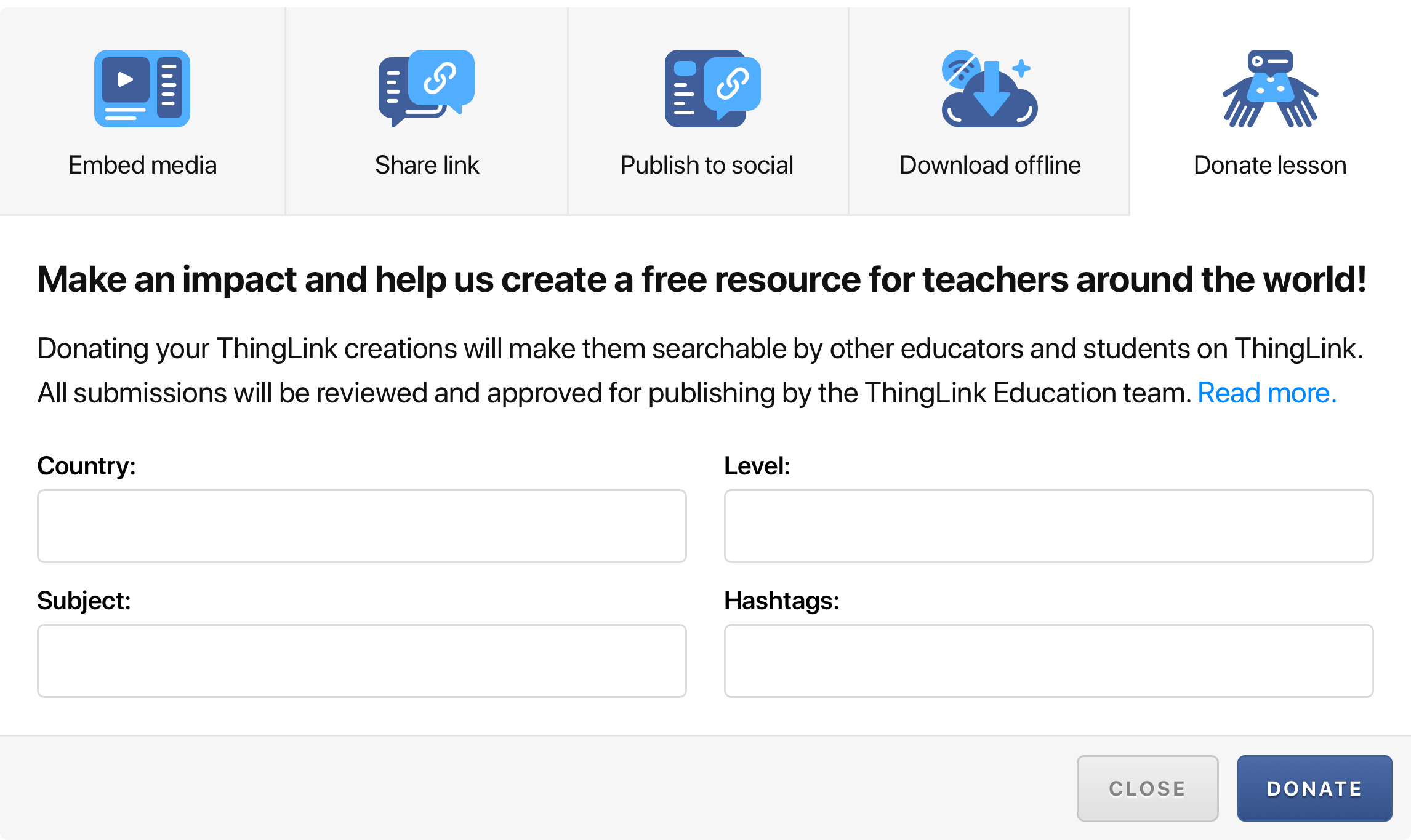 What are the guidelines for donating lessons?
Teachers have unlimited artistic freedom to compose, arrange and combine their materials into various types of online resources including posters, infographics, video lessons and virtual tours!
Our guidelines for submissions are the following:
The donated lessons should be made by a teacher, an educational content professional, or an educational publisher, and they should not contain promotional or other commercial content.
The lessons should be categorized per country, grade level, subject and keywords to make them easily accessible by other users.
The lessons should not include copyrighted content.
Educational videos: when applicable, authors should highlight key concepts and vocabulary using text labels or text and images.
All content: authors should link to original source when displaying content from 3rd party websites.
Can other users edit my lessons?
This is your choice. All donated lessons are copyrighted under Creative Commons Attribution 3.0 license, which means users can allow other people to share, clone and edit the original lessons. An attribution to the original creator of the lesson is automatically created in the form of a ThingLink profile tag when an image or video is cloned.
Our goals
Online learning has been a widely adopted practice in higher education, but there is very limited research of how it works in basic education. With this initiative, we hope to give the global educator and research community new tools for collaboration and innovation.
We believe that the quality of visual learning materials such as images and videos can be significantly improved by adopting new standards and practices, including:
Consistent explanation of key concepts to improve comprehension and vocabulary development
Affiliation to source information and related discussions to support transparency and critical thinking
Integrated reading tools to improve accessibility
Connection to related assignments or activities to encourage further learning
Make an impact and become a Global Educator!
A global crisis requires global collaboration and new efficient ways to educate, not only our students, but also thousands of health workers, medical teams, military, and citizens who are volunteering in their neighborhoods and at hospitals.
Whatever is your subject matter and expertise, we invite you to share it with others by donating interactive posters, user manuals, expert interviews, video lessons, or virtual tours on ThingLink. Help us to build a collection of shared resources, because together we can make an impact. Together we can go the distance.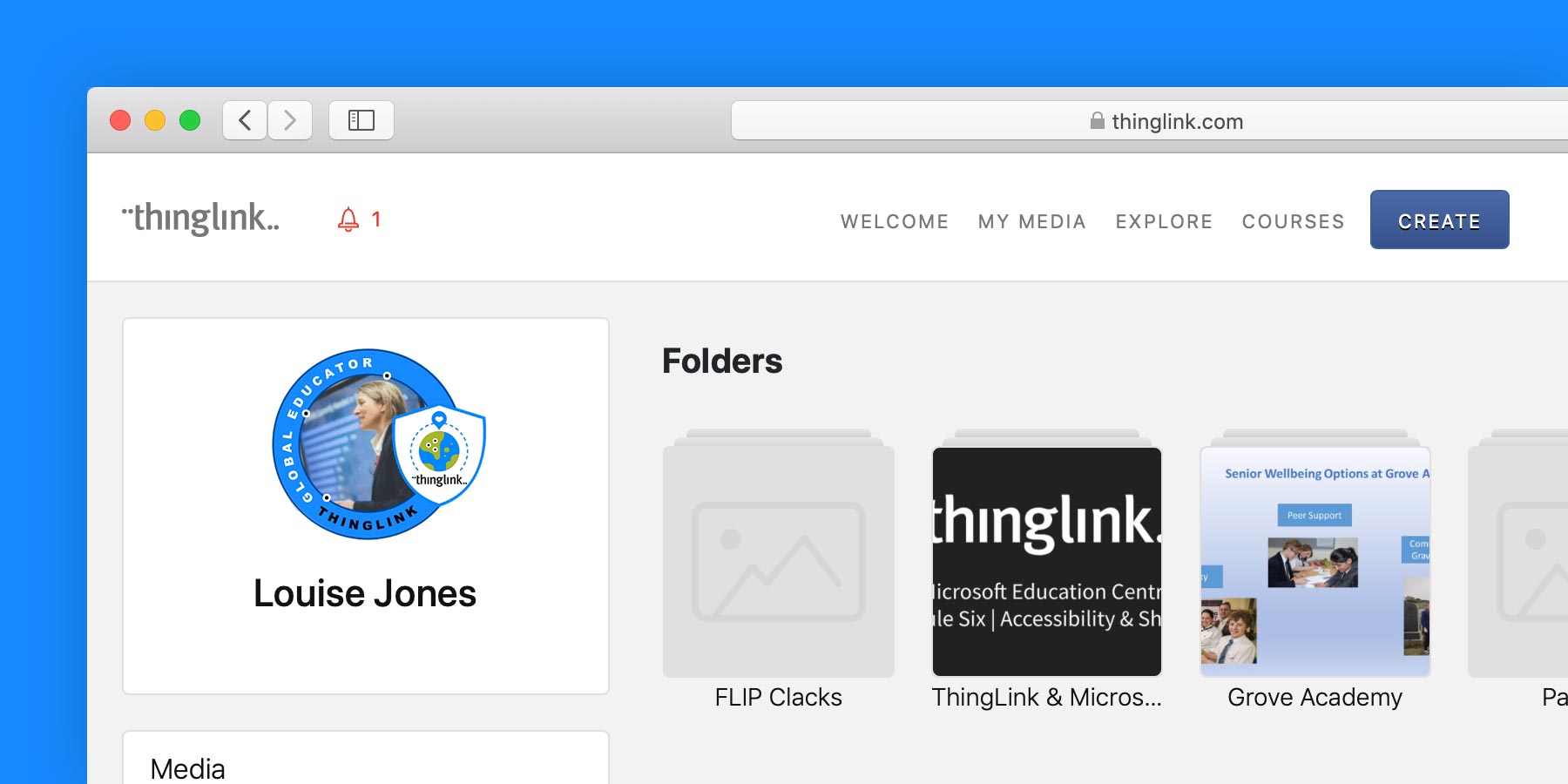 Run a community
ThingLink involves exceptional teachers from different countries that inspire others with their example. If you are interested in leading a ThingLink educator community in your country please contact our Education Community Director Louise Jones at louise@thinglink.com.
Become a partner or sponsor
There are several ways for you to become involved as a partner or sponsor. The easiest way to support this initiative is to spread the good word in social media. To connect with our team and learn more, email us at education@thinglink.com.